RURAL COMMUNITY MOVEMENT IN LITHUANIA FROM THE PERSPECTIVE OF NEW SOCIAL MOVEMENT
Lina Pareigienė

Lithuanian Institute of Agrarian Economics
Keywords:
new social movement, rural community movement, Lithuania
Abstract
After Lithuania regained the independence, the state confronted with many political, social, economic, and cultural challenges, which led to changes of norms, values, forms of activities and consciousness of citizens. Changing situation lead to the marginalization of rural areas, the rural community movement raised. The main reason for the rising movement was dissatisfaction about current situation and willingness to change it using communities' resources. This movement is allied to new social movements, which arose in 1960 in Western world. For the creation of postindustrial rural areas the paradigm of innovative, sustainable, inclusive rural development determines that new theories, explaining transformations, are necessary. The aim of this research is to identify correspondence of Lithuanian rural community movement to new social movement theory. Scientific literature, related documents, and secondary statistical data were analysed, the theoretical framework of six dimensions was created and applied. The research results confirmed that rural community in Lithuania is to be viewed as a new social movement with some features of traditional movements. These findings may be useful for increasing the awareness about social transformations in rural areas.
Downloads
Download data is not yet available.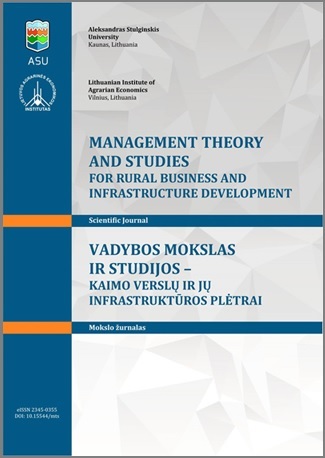 How to Cite
Pareigienė, L. (2018). RURAL COMMUNITY MOVEMENT IN LITHUANIA FROM THE PERSPECTIVE OF NEW SOCIAL MOVEMENT. Management Theory and Studies for Rural Business and Infrastructure Development, 40(3), 369–378. Retrieved from https://ejournals.vdu.lt/index.php/mtsrbid/article/view/119