EFFECTS OF MAIZE POLICY REFORM IN NORTHEAST CHINA
Wenxin Liu

Northeast Institute of Geography and Agroecology, Chinese Academy of Sciences.

Xiuli He

Northeast Institute of Geography and Agroecology, Chinese Academy of Sciences.
Keywords:
Farmers' income, Livelihood strategies, Northeast China, Reform of maize purchasing and storage system.
Abstract
National macro-policy is an important factor affecting the adjustment of farmers' livelihood strategies. It is necessary to analyze the impacts of agricultural change on farmers' income and livelihood strategy adjustment when new policy is issued. The Northeast Chinais a strategic region that guarantees China's national grain security and is also an important pilot area for implementing national agricultural policies. As a breakthrough point in the present agricultural supply-side structural reform implemented by Chinese government, the reform of maize purchasing and storage system in Northeast China has played a significant role in adjusting the maize price and also exerted a significant influence on the income and family livelihood strategies of some farmers. Given the shifts in maize policy, the purpose of this research is to model farmers' income change and their livelihood strategy adjustment in Northeast China. In consistence with the macro statistical data, the survey results of 125 questionnaires indicate that the reform of maize purchasing and storage system implemented in 2016 led to the drop of maize price in Northeast China by more than 30% in 2017, and the net income of maize growers in most areas of Northeast China declined by more than 60% compared with the previous year. Faced by the sudden drop in the maize price, 24.2% of maize growers in the surveyed farmers planned to adjust their livelihood strategies in a short term. The changes in livelihood strategies are mainly affected by the indicators of "comparison between income and expenditure" and "satisfaction with income from farming". Finally, this paper puts forward some suggestions from the aspects of supporting subsidies, guidance for adjustment of family livelihood strategies and training of farmers' vocational skills.
Downloads
Download data is not yet available.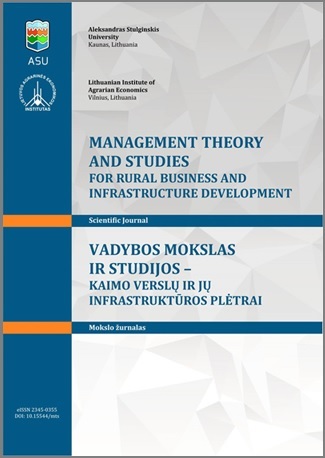 How to Cite
Liu, W., & He, X. (2018). EFFECTS OF MAIZE POLICY REFORM IN NORTHEAST CHINA. Management Theory and Studies for Rural Business and Infrastructure Development, 40(3), 348–360. Retrieved from https://ejournals.vdu.lt/index.php/mtsrbid/article/view/116