Music Teacher's Competences in the 21st Century
Jelena Davidova

Daugavpils University, Latvia
Keywords:
music teachers' competences, approaches and principals in modern music education, priorities in music teacher education
Abstract
Rethinking education of music teachers for new learners' generation is as crucial as identifying the new competencies that today's music teachers need to develop. According to analyses of EU documents and scientists' conceptions concerning music teacher's competences, the author characterizes tendencies and priorities for improving music teachers' competences in the 21st century. The basic task of music education is promoting the formation of learners' personal attitude to the world, to self and others, to provide the opportunity for learners to learn music as a new form of communication. In this context music teacher has to demonstrate knowledge and understanding not only in music subject, but in a) communication and positive relationship-building; b) collaboration with parents, colleagues, musicians, composers and specialists in other spheres; c) development of creative and social skills of learners based on three pedagogical principles – personalization, participation and productivity, as well as through and in the arts/culture approaches in music education process.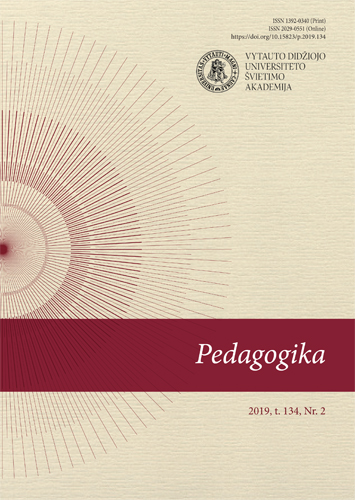 How to Cite
Davidova, J. (2019). Music Teacher's Competences in the 21st Century. Pedagogika, 134(2), 99-108. https://doi.org/10.15823/p.2019.134.6
Copyright (c) 2019 Pedagogika
This work is licensed under a Creative Commons Attribution-ShareAlike 4.0 International License.