Prevention of Bullying among Young Adolescents (11–15 years of age) at General Education School
Ilona Tandzegolskienė

Vytautas Magnus University

Simona Vančugovaitė

Vytautas Magnus University
Keywords:
general education school, adolescents, bullying, bullying prevention
Abstract
The consequences of bullying among adolescents have a negative influence on the development of adolescent's personality and socialization, as well as can affect schoolchildren's physiology (e.g. organ functions, regulation of the nervous system), psychology (e.g. a teenager becomes sensitive, loses self-control), contemplation (e.g. a teenager feels helpless) and behaviour(e.g. non-attendance of lessons, teenager's attentiveness is impaired); therefore, in order to avoid the bullying problem and consequences coursed by it, it is required that pedagogues select proper measures of bullying prevention, which would help to stop bullying among adolescents, to educate their social skills, to develop a tolerant and positive approach to communication, and negative attitudes towards the bullying problem. The research has involved 16 teachers from6 general education schools of Kaunas.
The results of the research showed that pedagogues responded quickly to the bullying situation and looked for the ways to solve the problem, social pedagogues and psychologists mostly organized consultations for all involved in bullying while form masters tended to initiate discussions during and after a class lesson. However, it is very important that pedagogues provide schoolchildren certain knowledge about different consequences of bullying, develop skills of safe behaviour, strengthen self-confidence and self-esteem of adolescents, develop tolerance, self-control, promote communication and cooperation with peers.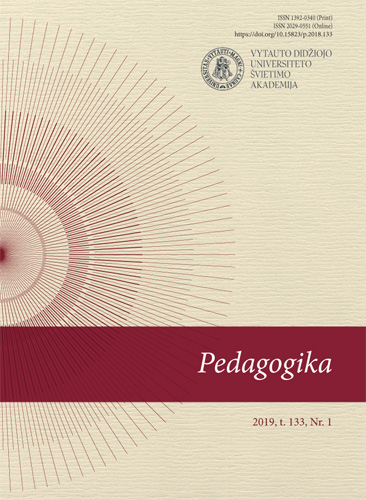 How to Cite
Tandzegolskienė, I., & Vančugovaitė, S. (2019). Prevention of Bullying among Young Adolescents (11–15 years of age) at General Education School. Pedagogika, 133(1), 183-201. https://doi.org/10.15823/p.2019.133.10
Copyright (c) 2019 Pedagogika
This work is licensed under a Creative Commons Attribution-ShareAlike 4.0 International License.