Indications of Students' Aggressive Behaviour in Klaipėda Schools as a Precondition for Possible Deadly Mass Assaults: Teachers' Opinion
Rolandas Jančiauskas

Klaipėdos universitetas
Keywords:
aggression, violence, bullying, school, students, deadly mass assaults
Abstract
Bullying and violence among students are becoming a sensitive issue not only for the school community and parents but also for the society, where is the increase in the growing number of aggressive students. It can cause severe social outcomes or even deadly mass assaults, in this case, AMOK. The aim of the research – to analyse teachers' opinion on students' aggressive behavior and its possible consequences, deadly mass assaults, AMOK. The objectives of the research: 1. To analyse the opinion of teachers, who are working at Klaipėda Žemyna Gymnasium and Klaipėda Eduardas Balsys Art Gymnasium about student's aggressive behaviour and teachers' actions when they are confronted with such student's behaviour. 2. To reveal the opinion of teachers at Klaipėda Žemyna Gymnasium and Klaipėda Eduardas Balsys Art Gymnasium whether aggressive students' behaviour can provoke deadly mass assaults, i.e. AMOK. The sample of the research consists of 33 teachers from Klaipėda Žemyna Gymnasium and 41 teachers from Klaipėda Eduardas Balsys Art Gymnasium. The methods of the research: theoretical (the analysis of scientific sources), empirical (a written survey), statistical data analysis.
The schools' community face with the issue of students' aggressive behaviour, and constant bullying and aggression among students in Lithuanian schools. This may lead to deadly mass assaults – AMOK. The findings of the research show that more than half of the total number of teachers, who participated in the research, believes that the issue of students' aggressive behavior exists in schools, as children usually behave aggressively, as want to be popular and get more attention from other people in their environment.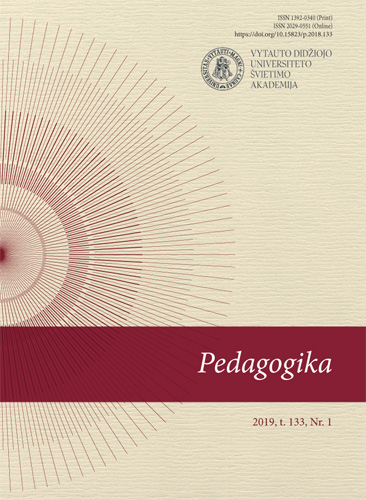 How to Cite
Jančiauskas, R. (2019). Indications of Students' Aggressive Behaviour in Klaipėda Schools as a Precondition for Possible Deadly Mass Assaults: Teachers' Opinion. Pedagogika, 133(1), 161-182. https://doi.org/10.15823/p.2019.133.9
Copyright (c) 2019 VDU Leidybos centras / VMU Publishing centre
This work is licensed under a Creative Commons Attribution-ShareAlike 4.0 International License.