Teachers' Experiences in Implementing Curriculum: a Teacher as a Participant of Educational Policy, a Member of the School Community and a Professional
Sniegina Poteliūnienė

Vytautas Magnus University

Stasė Ustilaitė

Vytautas Magnus University

Stanislav Sabaliauskas

Vytautas Magnus University

Jūratė Česnavičienė

Vytautas Magnus University

Agnė Juškevičienė

Vilnius University
Keywords:
teachers' experiences, the implementation of curriculum, comprehensive schools teachers
Abstract
The curriculum and its implementation are continuously at the centre of discussions of education policymakers, society and scientists. It is obvious that it is a teacher, who implements curriculum and seeks to achieve the quality of its implementation while reacting to the context of his practice, makes decisions based on his convictions and attitudes, knowledge about the educational process. This article endeavours to reveal teachers'experiences in implementing curriculum of Lithuanian comprehensive schools. The research raises the following question: how do teachers understand and experience the implementation of curriculum?
The phenomenography method was chosen for the research and a focus group interview method was used for data collection. 86 teachers of various subjects and primary school teachers, who have the qualification category of a teacher-senior or a teacher-methodologist, participated in the study.
The analysis of research results has shown that the implementation of curriculum is experienced by teachers through understanding of himself as a participant of educational policy, as a member of the school community, as a professional. These three categories, which were distinguished, comprise the space of the study results. Teacher's empowerment and professional recognition are the leading elements of a successful implementation of curriculum. The research revealed that teachers understand the implementation of curriculum, which is delegated to them by education policymakers. Based on the fact, whether a task delegated to teachers is understood and provided with support, how they are trusted and allowed to participate in constructing and creating curriculum before and while implementing it. It depends on what position teachers willtake for a great measure. If the idea of curriculum seems understandable and meaningful, whereas goals and expectations correspond to real educational possibilities, if the efforts of teachers are valued and encouraged, and relationships of the members of the school community are based on cooperation, it could be expected that the implemented curriculum will be successful. In such a case, teachers will feel trust and support, and that will increase professional motivation, desire to develop and will strengthen self-esteem.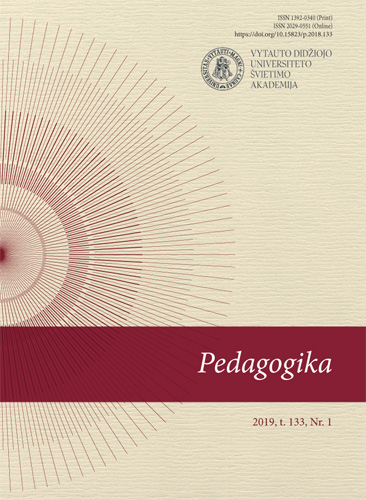 How to Cite
Poteliūnienė, S., Ustilaitė, S., Sabaliauskas, S., Česnavičienė, J., & Juškevičienė, A. (2019). Teachers' Experiences in Implementing Curriculum: a Teacher as a Participant of Educational Policy, a Member of the School Community and a Professional. Pedagogika, 133(1), 78-104. https://doi.org/10.15823/p.2019.133.5
Copyright (c) 2019 Pedagogika
This work is licensed under a Creative Commons Attribution-ShareAlike 4.0 International License.