Microteaching Guided by an Expert Secondary English Teacher: The Effect on Pre-Service English Teachers' Pedagogical Content Knowledge
Keywords:
changes, effect, expert teacher, microteaching, pedagogical content knowledge, pre-service English teachers
Abstract
This study aims to determine the effect of microteaching guided by an expert secondary English teacher on pre-service English teachers PCK, focusing on the changes before and after expert-guided microteaching. The equivalent time-series design involves a single-group, repeatedly assessed, with the treatment introduced between the measurements. Expert-guided microteaching significantly affects pre-service English teachers' PCK and triggers them to know what to teach and how to teach for students.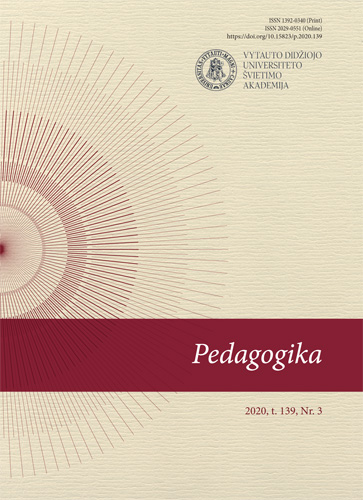 Downloads
How to Cite
Aimah, S., Rukmini, D., Saleh, M., & Bharati, D. A. L. (2020). Microteaching Guided by an Expert Secondary English Teacher: The Effect on Pre-Service English Teachers' Pedagogical Content Knowledge. Pedagogika, 139(3), 111–135. https://doi.org/10.15823/p.2020.139.6