The Relationships of Problem-Solving, Anger Expression and Control, Self-Reflection and Insight of Prospective and In-Service Teachers
Keywords:
teachers, problem-solving, anger expression and control, self-reflection
Abstract
The article presents the research on relations of problem-solving, anger, self-reflection of prospective and in-service teachers. The research within the sample of Lithuanian teachers disclosed positive correlations between their rationality in problem-solving, self-reflection, and anger control as well as between anger expression and emotionality in problem-solving. The regression analysis allowed stating that emotionality, rationality, need for self-reflection, and insight can help to forecast the expression of anger index.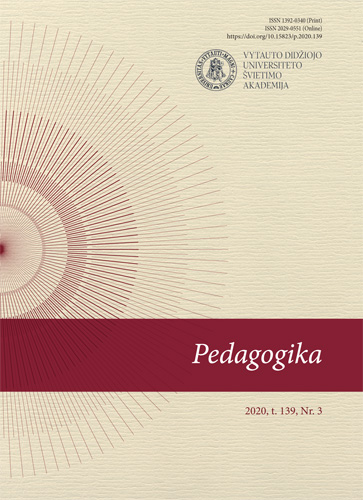 Downloads
How to Cite
Petrulytė, A., Navaitienė, J., & Rimienė, V. (2020). The Relationships of Problem-Solving, Anger Expression and Control, Self-Reflection and Insight of Prospective and In-Service Teachers. Pedagogika, 139(3), 88–110. https://doi.org/10.15823/p.2020.139.5