Domestic Violence: The Situation Assessment of Crimes Victims with Disabilities
Keywords:
victimological research, victimization of persons with disabilities, victims
Abstract
The aim of this article is to reveal situation and level of the victimization of persons with disabilities in Lithuania, also to present the victimology characteristics of victims with disabilities and to formulate proposals, recommendations for the development of help and support system. The article presents an analysis of victims' statistics, still very fragmental data on the violent victimization of victims with disabilities, its prevalence, and dynamics for 2013–2019 years. The victimological discourse presents and analyses the victimization of victims, their risk and the likelihood of becoming victims. The emphasis is put on the situation of women with disabilities, which requires a review of the scope, specialization, and accessibility of services provided to victims. The research shows that the current practice of law enforcement institutions does not focus on the assessment of the situation of victims with disabilities, they remain unidentified, and so the latency of their victimization processes is extremely high. This is evidenced by the comparison of statistical data with international victimological research. Thus, there is an emphasis on the extremely high vulnerability of victims with disabilities, which should lead to more attention for this category of victims by identifying them, investigating and ensuring their protection, providing quality services and support.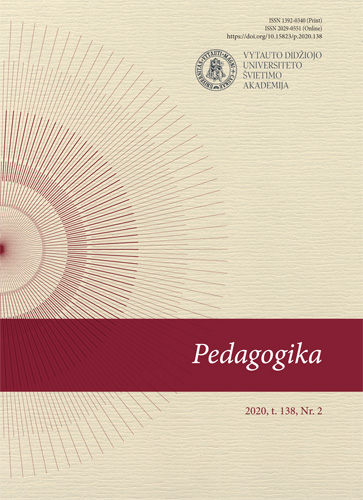 Downloads
How to Cite
Uscila, R. (2020). Domestic Violence: The Situation Assessment of Crimes Victims with Disabilities. Pedagogika, 138(2), 175–192. https://doi.org/10.15823/p.2020.138.10