The Interaction between Teachers' Professional Burnout and Professional Satisfaction
Keywords:
teacher's professional burnout, teacher's professional satisfaction, interaction
Abstract
The world is facing with requirements, which are changing the way people and the environment interact, changing needs, and long-term challenges. School is no exception, where endless reforms cause a great deal of chaos that teachers, students, and their parents are tired of. The article discusses the extent to which professional burnout is expressed in Lithuanian teachers 'community as a whole, and its relation to teachers' professional satisfaction. The aim of the research is to reveal the interaction between burnout and professional satisfaction of Lithuanian teachers in order to increase their professional satisfaction. The analysis of scientific literature was selected due to the theoretical explanation of the research problem. The quantitative research method was selected due to empirical research. The indicators on the questionnaire scales providedan opportunity to determine the links between Lithuanian teachers' professional burnout and professional satisfaction according to different structural stress dimensions. Statistical analyses were performed using the Statistical Package for the Social Sciences (SPSS 23) for Windows. The survey included 398 teachers (a representative sample of the study was 381 respondents). The main results. Based on the results of theoretical and empirical research, the main factors influencing the interaction between professional burnout and professional satisfaction were identified. A significant negative interaction between professional satisfaction and professional burnout was also confirmed.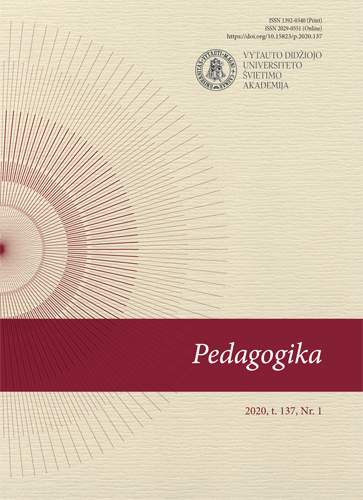 Downloads
How to Cite
Gedvilienė, G., & Didžiulienė, R. (2020). The Interaction between Teachers' Professional Burnout and Professional Satisfaction. Pedagogika, 137(1), 66–82. https://doi.org/10.15823/p.2020.137.4