The Quality Management of Vocational Education and Training (VET) Process: Evaluation of Community
Dalia Martišauskienė

Klaipėda University, Lithuania

Kęstutis Trakšelys

Klaipėda University, Lithuania
Keywords:
quality management, vocational training, training process
Abstract
The article presents the process of vocational education and training (VET) quality, which is an actual theme in educational policy nowadays. A total of 628 survey participants (240 teachers, 340 students and 48 school heads) participated in the research. Three vocational education and training schools from each region of Lithuania (Marijampolė and Alytus, Utena, Panevėžys, Šiauliai, Telšiai and Tauragė, Klaipėda, Kaunas, Vilnius) were selected randomly. The quantitative study revealed, that the majority (78%) of educational providers (pedagogues (n = 240), school heads (n = 48) (81% and 66% respectively) perceive quality as continuous improvement of services. In addition, 52% of teachers and school leaders (62% and 48% respectively) describe quality as being fit for purpose, that is to say, how much the vocational training institution meets its goals and realizes the functions provided in legal acts. Defining the quality concept, 49% study participants (n = 628) emphasized the satisfaction of consumers' needs and 28% – the importance of missing errors. However, only a small percentage of educational service providers (n = 288) involved in the study, perceive the quality as excellence and service exclusivity (21% respectively), although the same varied services are missed by both: pedagogues and users of services – students.
Looking at the responses of school heads (n = 48), they would look much better compared to teachers (n = 240) and students (n = 340). Teachers' and school heads' attitudes towards quality management principles are different. Pedagogues, who usually understand their work as performing lessons, do not think that quality management principles are important for an organization and teaching process. The customer orientation is usually understood as the clarification of the customer's needs and expectations, as well as the quality of service provided. School heads (n = 48) have highlighted this feature as the most important since many vocational education and training institutions work in a competitive environment, consequently, each learner is important, as well as meeting their needs and expectations is a necessary part of the quality management system.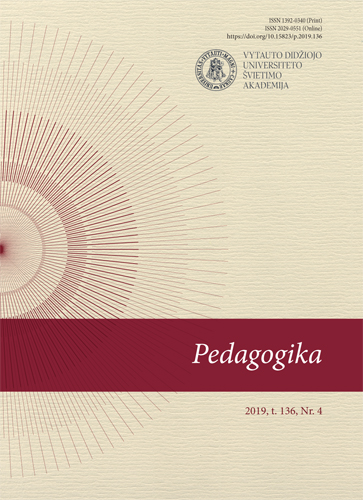 How to Cite
Martišauskienė, D., & Trakšelys, K. (2019). The Quality Management of Vocational Education and Training (VET) Process: Evaluation of Community. Pedagogika, 136(4), 194-202. https://doi.org/10.15823/p.2019.136.12
Copyright (c) 2019 Authors
This work is licensed under a Creative Commons Attribution 4.0 International License.