The Initial Educational Content of Theatre as a Subject Implemented in 11th or 12 th Grades by Pre-service Theatre Teachers: Relevant and Broad
Vida Kazragytė

Vytautas Magnus University, Lithuania
Keywords:
educational content, theatre
Abstract
This article presents the results of an investigation into the initial educational content of theatre subject in 11th or 12th grades in Lithuania. It is shown, that the initial educational content of theatre subject is devoted to obviate the negative pupils' attitudes to themselves and their inabilities to interact. Also, to achieve an expressing pupil's individual point of view, creating respectful relationships, behaving as a co-creator.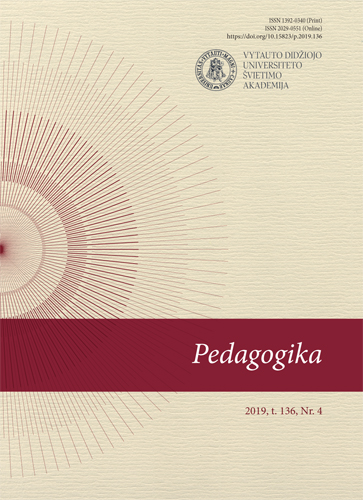 How to Cite
Kazragytė, V. (2019). The Initial Educational Content of Theatre as a Subject Implemented in 11th or 12 th Grades by Pre-service Theatre Teachers: Relevant and Broad. Pedagogika, 136(4), 109-125. https://doi.org/10.15823/p.2019.136.7
Copyright (c) 2019 Authors
This work is licensed under a Creative Commons Attribution 4.0 International License.