Semiotic Characteristics of the 9th Grade Math Textbook
Mohammad Ahmad Alkhateeb

Hashemite University, Jordan
Keywords:
intellectual function, interpersonal function, textual function, math textbook analysis, systematic functional linguistics (SFL)
Abstract
This study employed the social semiotic method to analyze the 9th grade textbook in Jordan. Through analyzes three texts-related major aspects: intellectual function, interpersonal function, and textual function. The results showed that math is abstract, and assertive, and that math is located in a self-independent realm, with its own mathematical beings and with the existence of an official and far relationship between the book and the student. The math textbook tends to show the students as if they are merely ordered implementers.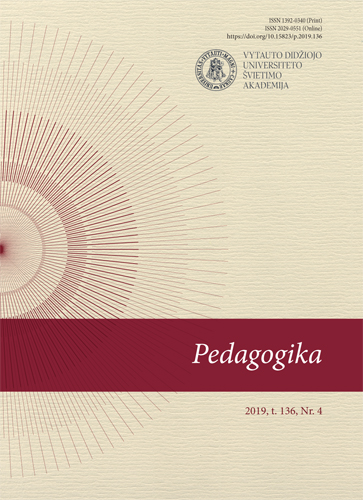 How to Cite
Alkhateeb, M. A. (2019). Semiotic Characteristics of the 9th Grade Math Textbook. Pedagogika, 136(4), 89-108. https://doi.org/10.15823/p.2019.136.6
Copyright (c) 2019 Authors
This work is licensed under a Creative Commons Attribution 4.0 International License.