Intensive Consulting for Schools by Mitigating the Impact of Social, Economic and Cultural Context on Students' Learning Achievements
Ramutė Bruzgelevičienė

Vytautas Magnus University, Lithuania
Keywords:
social, economical, cultural context, organization consulting, external consultants, consulting targets
Abstract
The article analyses the question, how intensive consulting for schools can affect students' learning achievements by mitigating the impact of social, economic and cultural context. Based on the case study methodological approach, the case of the project "Initiative for municipalities", implemented in 2016–2018 in five schools of Kupiškis district municipality, was analysed. After conducting the analysis of the theoretical literature and documentary sources, and interviews, the following conclusions were made:
Due to its duration and intensity, it was long-term consulting; mixed – expert and procedural – consulting approaches were used depending on the problems raised in the schools, the context, readiness of the teachers for change, and the nature of changes proposed by the consultant. It is recognized that the characteristics of the expert consulting dominated.
The intensive long-term consulting, implemented in schools resulted in improvement of students' achievements due to intentionally selected consulting targets – guiding of schools and teachers towards change in the school culture, orientation towards strengthening teaching/ learning assistance, and the application of teaching/learning strategies favourable to students. The consultant's attempt to implement the teaching methodology based on post-cognitive principles in schools is discussed. The issues discussed remain open for further research.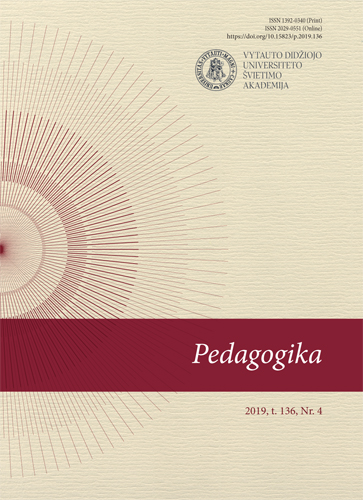 How to Cite
Bruzgelevičienė, R. (2019). Intensive Consulting for Schools by Mitigating the Impact of Social, Economic and Cultural Context on Students' Learning Achievements. Pedagogika, 136(4), 17-41. https://doi.org/10.15823/p.2019.136.2
Copyright (c) 2019 Authors
This work is licensed under a Creative Commons Attribution 4.0 International License.