Factors Determining the Success in Self-Evaluation of General Education School: The Case of Lithuania
Keywords:
general education school, quality evaluation of general education schools, self-evaluation of the quality of general education schools, external evaluation of the quality of general education schools
Abstract
The self-evaluation of the quality of activities in general education schools in Lithuania was started in 2002. A number of scientific studies have been carried out during the process of design and application of quality self-evaluation tools; however, research showed that the essence of quality self-evaluation processes was not always understood. Meanwhile, there are examples of good practice in Lithuania that have been identified with an external quality evaluation of the schools. Therefore, this article addresses to the problem of the factors that determine the success of self-evaluation of quality in general education schools. The article is based on a case study strategy. Classical and content analysis methods were used to process the research data. 
The study concludes that the key factors of the success of quality self-evaluation in schools consist of a well-organized self-evaluation process, timely use of self-evaluation data, and an impact on organizational development in response to change challenges. Factors identified with the study are related to clear management decisions related to planning, responsible involvement of all community members, and integration of internal processes focusing on the challenges of educational process change. This helps to clearly understand the mission of the organization, and also provides a great foundation for the leadership of every member of the community and contributes to the development of their professional competencies.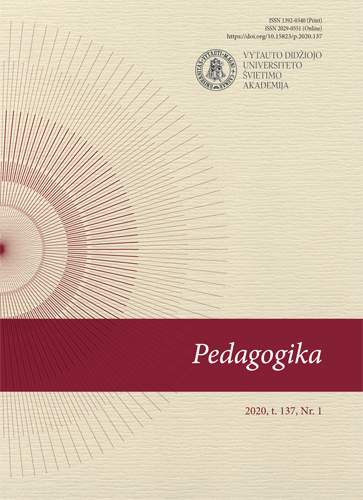 Downloads
How to Cite
Tumlovskaja, J., & Prakapas, R. . (2020). Factors Determining the Success in Self-Evaluation of General Education School: The Case of Lithuania. Pedagogika, 137(1), 105–116. https://doi.org/10.15823/p.2020.137.6