Annotating Causal Discourse Markers 'because' and 'so' for Learning English as a Foreign Language
Keywords:
causal relations, discourse markers, parallel corpus, cross-linguistic discourse annotation, translation, foreign language learning
Abstract
This paper reports on an investigation of the functions of the English causal discourse markers 'because' and 'so' and their Lithuanian counterparts and analyses the Lithuanian translation equivalents of these discourse markers using the multilingual open translation project TED Talks as a data resource. The results revealed that the discourse marker 'because' and its Lithuanian counterparts express ideational cause, followed by its rhetorical equivalent. However, the discourse marker 'so' and its Lithuanian counterparts express rhetorical consequences, followed by the rhetorical specification.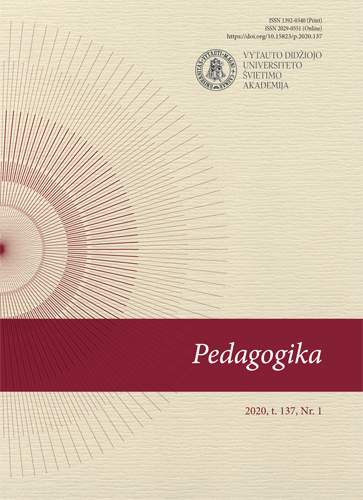 Downloads
How to Cite
Valūnaitė-Oleškevičienė, G., Rackevičienė, S., Burkšaitienė, N., Mockienė, L., Šliogerienė, J., & Gulbinskienė, D. (2020). Annotating Causal Discourse Markers 'because' and 'so' for Learning English as a Foreign Language. Pedagogika, 137(1), 193–207. https://doi.org/10.15823/p.2020.137.11