Moving into modernism: outward and introspective journeys in the early 20th century Latvian women's travel narratives
Keywords:
Women writers; Travelogue; Autobiographic writing; Female agency; Latvian literature
Abstract
The advancement of women as writers in Latvia during the early 20th century was directly attributed to increased education and freedom. Travelling literary women in the early twentieth century were also part of a larger pattern –the increased ability to travel for pleasure. At the beginning of the 20th century Latvian upper middle class women went to Western Europe – Italy, France, Switzerland – for enjoyment and educational purposes. Anna Rūmane–Ķeniņa's (1877–1950) cycle of sketches "From the South" ("Iz Dienvidiem") (1902) and Angelika Gailīte's (1884–1975) travel narrative "Observations and Dreams" ("Vērojumi un sapņojumi') (1920) described travel to Italy. Travelogues, positioned between autobiography and fiction, represented subjective experiences and gave women writers an acceptable medium for expressing their thoughts and ideas publicly. As women writers shared their impressions of foreign spaces and peoples with their audience at home, they also articulated themselves. Inscribing their own lives into a text they reinforced their new social position as modern women and writers, thus travel narratives also served as important instances of female agency at the beginning of 20th century Latvia.
Downloads
Download data is not yet available.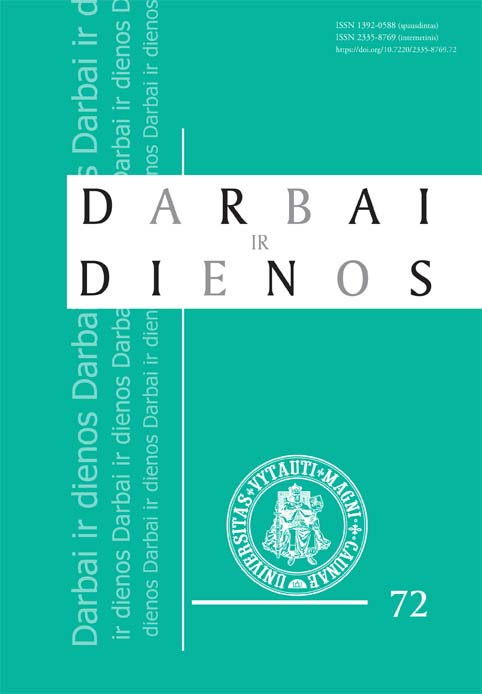 Downloads
Additional Files
How to Cite
Kārkla, Z. (2020). Moving into modernism: outward and introspective journeys in the early 20th century Latvian women's travel narratives. Deeds and Days, (72), 105–118. https://doi.org/10.7220/2335-8769.72.6