To my country and the world: Andrei Sakharov and Lithuanian emigrants with a science background on responsibility, development, and environmental issues
Keywords:
Science, Responsibility, Nuclear energy, Dissemination of information, Natural resources, Gamtiniai ištekliai
Abstract
The article is based on the premise that representatives of sciences, even living and working in different parts of the world and being piece of distinct political orders, form a global community based on shared knowledge of the world around us and work ethic. They also are interested in the impact of scientific and technological progress on individual societies and the world. The article's structure was determined by the topics that both Lithuanian authors and Sakharov discussed in one way or another. The analysis of the texts of the physicist and human rights activist Andrei Sakharov and the post-WWII Lithuanian migrants, representatives of sciences, shows that all authors reflected the ongoing progress of science and technology and its massive impact on particular societies and the world. Furthermore, they emphasized the changing role of sciences representatives and the increase in their social responsibility. Intellectual freedom, free dissemination of information, nuclear energy and its dangers, environmental issues captured the attention of either Lithuanian migrants with a science background or Sakharov. The analysis of texts revealed that Sakharov was equally concerned about the processes in the Soviet Union and the world. At the same time, Lithuanian emigrants were interested in their dwelling countries and their occupied Homeland.
Downloads
Download data is not yet available.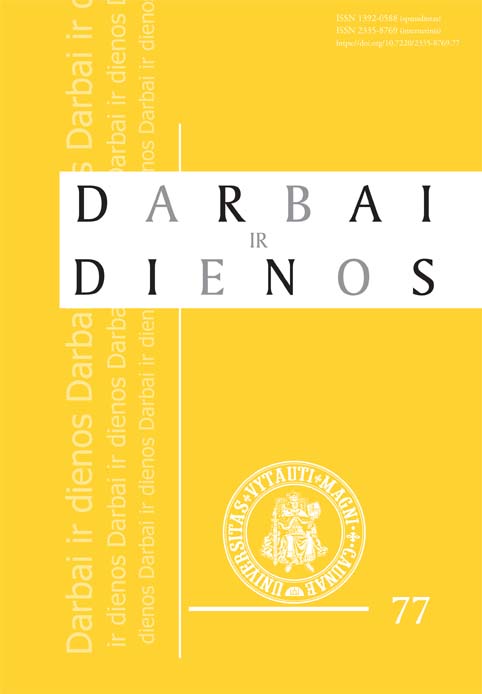 Downloads
How to Cite
Strumickienė, I. (2022). To my country and the world: Andrei Sakharov and Lithuanian emigrants with a science background on responsibility, development, and environmental issues. Deeds and Days, 77, 79–99. https://doi.org/10.7220/2335-8769.77.5