TARPKULTŪRINIO DISKURSO ATSPINDŽIAI MICKŪNO FENOMENOLOGIJOJE
Keywords:
Mickūnas, philosophy of culture, phenomenology, civilizational analysis, Fink, Landgrebe
Abstract
The article discusses, with respect to the history of philosophy, the aspects of intercultural communication studied by Algis Mickūnas and their relation to the phenomenological tradition. By trying to reveal the mutual relations of these ideas the paper's author analyzes the intercultural discourse unfolding in Mickūnas' work. Consequently those scholarly writings of Mickūnas are discussed in which intercultural problems are examined. By seeking to determine their genesis the paper's author looks at the Lithuanian thinker's biography and finds the important influence that the German philosophers Ludwig Landgrebe and Eugen Fink exercised upon Mickūnas' thinking. The presence of this influence allows us to know the particularity of Mickūnas' conception of interculturality.
Downloads
Download data is not yet available.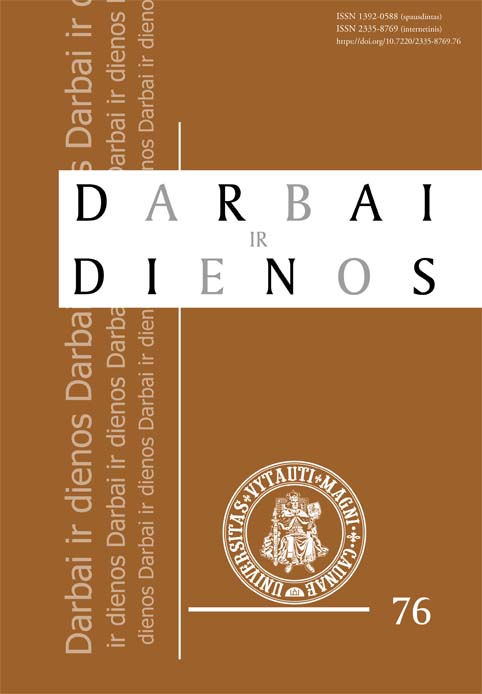 Downloads
How to Cite
Vareikis, Žilvinas. (2021). TARPKULTŪRINIO DISKURSO ATSPINDŽIAI MICKŪNO FENOMENOLOGIJOJE. Deeds and Days, 76, 43–55. https://doi.org/10.7220/2335-8769.76.3