RIČARDAS GAVELIS' PARANOID GUIDE TO POST-SOVIET VILNIUS
Keywords:
postcolonialism, deconstruction, antitopophilia, paranoid, post-Soviet protagonist
Abstract
The aim of this article is to analyze the relationship that the protagonist of Ričardas Gavelis' novel Sun-Tzu's Life in the Holy City of Vilnius has to the place, as well as his own paranoid character in post-Soviet reality. Taking into account the previous studies of Gavelis' work, the article applies the theory of topophilic analysis – which has not been used so far to understand the writer's oeuvre – that French literary scholar Gaston Bachelard and his follower Denis Sobolev have developed, along with the methodology that post-modern psychoanalysis (mainly Slavoj Žižek) offers, which allows us to arrive at a number of propositions that significantly complement the literary treatment of the writer's last piece.
The Lithuanian writer Ričardas Gavelis is best known to readers in the Western world as the author of the novel Vilnius Poker. According to many reviewers of the book and numerous scholars who have studied it in Lithuania and other countries, this work is a phantasmagoric epic of Vilnius, the capital of Lithuania, in the late Soviet and early post-Soviet eras.
Gavelis still represents, and is identified in Lithuania and in post-Soviet space with, a specific type of author who is characterized by isolation from social life, lockdown in his own home, and writing based on his previous experience of self-isolation and inwardness. This kind of writer does not maintain any communication with the outside world and, in a sense, is antisocial – but at the same time, he does not lack the ambition to make his life meaningful by writing and to write into a literary history that may one day recognize such an author as a classic.
Downloads
Download data is not yet available.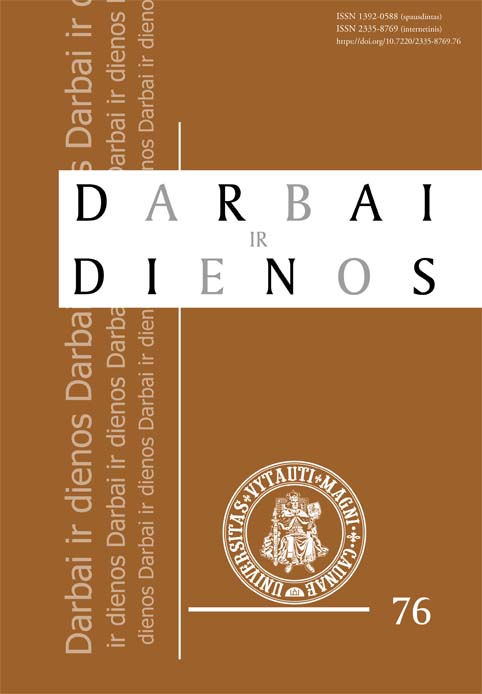 Downloads
How to Cite
Čičelis, R. (2021). RIČARDAS GAVELIS' PARANOID GUIDE TO POST-SOVIET VILNIUS. Deeds and Days, 76, 33–42. https://doi.org/10.7220/2335-8769.76.2