ISSN 2351-6011 (Online)
ISSN 1392-9569 (Print)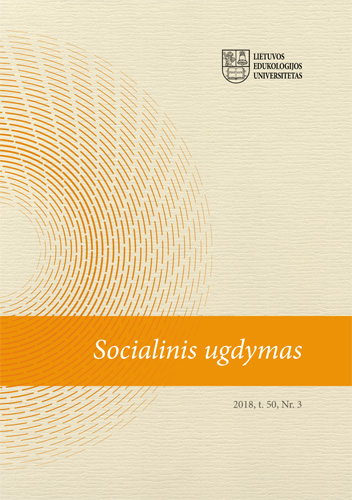 "Social Education" is a periodical peer-reviewed journal in the field of social sciences. It is being issued by Lithuanian University of Educational Sciences (formerly – Vilnius Pedagogical University) since 1999. The journal publishes articles in Lithuanian and English languages; 2-3 volumes of the journal are issued every year. The aim of "Social Education" is to publish interdisciplinary scientific research publications in the fields of social pedagogy, management, economics, sociology, communication, philosophy and education science. The journal promotes research results performed not only in Lithuania but also abroad in order to provide the opportunity for scientists of various academic societies to participate in an open discussion of international level on the topics of science, society education, social policy and socio-cultural issues. Journal publications must contain the parts required for scientific papers: the aim and object of the research, methods applied, research results and conclusions. "Social Education" publishes original results of scientific researches performed by Lithuanian and foreign scientists, as well as practitioners. Working papers on social development, summaries and reviews of monographs, as well as presentations of research events are also welcome. All papers undergo a double-blind review process. More than 50 percent of editorial team members are foreign researchers. The submission and publication of papers in the journal is free of charge.
Editor-in-Chief of the periodical scientific journal is prof. dr. Giedrė Kvieskienė.
The journal "Social Education" is abstracted and indexed by:
Volumes of the journal issued before 2013 can be found in its former website.
All works are licensed under a Creative Commons Attribution-ShareAlike 4.0 International License. The journal is licensed using CC_BY_SA license, which allows others to distribute, change and create new works even for commercial purposes, indicating the authors of the original work. New work should possess the same license as the original work. The journal is presented as open access journal under the provision No 291 issued on February 19th, 2014 of the Senate of Lithuanian University of Educational Sciences entitled "The policy outlines of the open access for scientific, studies and other information at Lithuanian University of Educational Sciences".