Te Problem of Localization of the Smolensk Voivodeship's Sejmiks-in-exile of the Grand Duchy of Lithuania from 1667 to 1794
Robertas Jurgaitis

Vytautas Magnus University
Keywords:
exiles, Grand Duchy of Lithuania, Smolensk Voivodeship, Starodub District, sejmiks-in-exile, 18th century
Abstract
Annotation. Te article discusses the problem of localization of the Smolensk and Starodub sejmiks-in-exile of the Grand Duchy of Lithuania (GDL) in the period 1667–1794. Based not only on the Constitutions of the Seimas of the Polish-Lithuanian Commonwealth, but also on the systematic use of documents of the Sejmiks-in-exile, were analyzed the ends of the 17th century projects for the establishment of the Smolensk Voivodeship ofce and premises for the activities of the sejmiks in the territory of Vilnius Lower Castle, were localized places of the 18th century sessions of the sejmiks (Bernardine Church and Monastery in Vilnius, Carmelite Monastery in Vilnius, parish churches in Alytus and Žiežmariai, etc.) and were determined places of non-traditional activity (in the Palace of the Supreme Tribunal of the GDL). Te research used descriptive and comparative research methods, taking into account the theoretical discourse used in archeology of law and local research.


Downloads
Download data is not yet available.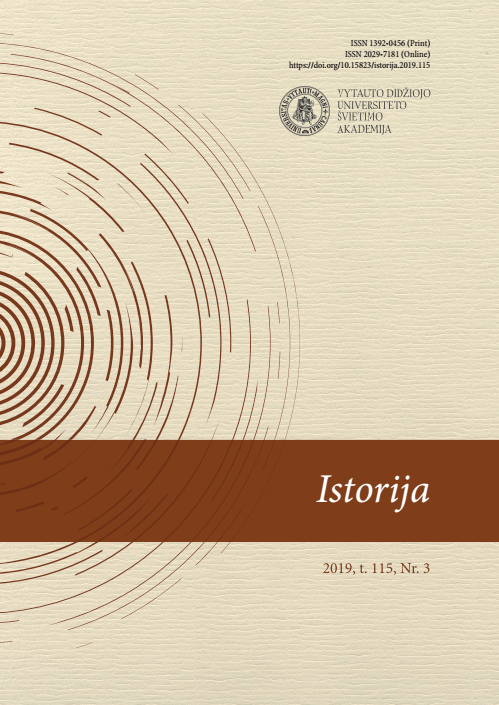 How to Cite
[1]
Jurgaitis, R. 2020. Te Problem of Localization of the Smolensk Voivodeship's Sejmiks-in-exile of the Grand Duchy of Lithuania from 1667 to 1794. History. 115, 3 (Apr. 2020), 29-51. DOI:https://doi.org/10.15823/istorija.2019.115.2.
Copyright (c) 2020 History
This work is licensed under a Creative Commons Attribution-ShareAlike 4.0 International License.