About the Journal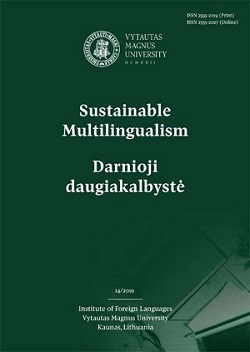 "Sustainable Multilingualism" is a Biannual Scientific Journal (issues are published twice a year: in June and December).
The journal aims at fostering sustainable multilingualism and multilculturalism by presenting research on the issues of language policy, preservation of minority and less widely taught languages, maintenance of linguistic rights, language ecology, pluralistic approach to languages, acquisition and development of plurilingual competence, interdisciplinary language sensitive teaching, mediation, intercultural dialogue development, and plurilingual didactics. The need to research multilingualism as an essential feature of a dynamic and coherent international community is urgent under contemporary conditions of the socio-political climate.
The Journal was established by Vytautas Magnus University science cluster "Research in Plurilingual Competence Development" H-08-09 in 2012 and published by the Institute of Foreign Languages.
Since 2017 the online version of the journal has been published by SCIENDO (former DE GRUYTER OPEN).
The journal is registered in the CrossRef system and uses the plagiarism detection system CrossCheck powered by iThenticate. Open Journal System (OJS) software is used for management and publishing support. The journal is published by Sciendo and indexed in SCOPUS.
All published articles have assigned DOI numbers.
Scientific periodical journal "Sustainable Multilingualism" is indexed in SCOPUS, MLA, DOAJ, C.E.E.O.L., J-GATE, LINGUISTICS ABSTRACTS ONLINE, LINGUISTIC BIBLIOGRAPH, Yand WANFANG DATA databases.
Scopus metrix for 2022:
• CiteScore - 0.4
• SJR - 0.123
• SNIP - 0.229
Editor-in-Chief - Prof. dr. Nemira Mačianskienė, Vytautas Magnus University, Lithuania.
Deputy/Managing Editors - Assoc. prof. dr. Vilma Bijeikienė, Vytautas Magnus University, Lithuania & Assoc. prof. dr. Servet Çelik, Trabzon University, Turkey.
Associate Editor-in-Chief - Dr. Aurelija Daukšaitė-Kolpakovienė, Vytautas Magnus University