The Use of the Small-sided Games Method in a Reduced Pitch Area for Learning Handball
Rasa Mikalonytė

Vytautas Magnus University, Lithuania
Keywords:
Team handball, small-sided games (SSG), sport education
Abstract
Sports of playing games for student's competence are rapidly growing and beneficial in the process of the development of skills. The article provides material on handball training in physical education lessons and informal environments (workouts), using a small-sided games method (SSG). The benefits of this method have been proven in the preparation of high-performance athletes, seeking the highest results in the competition. Team handball has become a modern and fast game that fascinates viewers and participants in much more foreign arenas. Therefore, it is particularly important that children and adolescents in schools can try this game at innovative methods.
A problem-related question arises – how to organize physical education classes using a small-sided game method, teaching handball to make them more relevant to youth? The aim: to reveal how small sided games (SSG) can help quickly master the content of a learning game and contribute to handball promotion in schools. The article uses the analysis of scientific literature.
Training based on techniques denies tactical training by dividing them, but gaming provides a new meaning, which allows to follow the integrity of the game (technique, tactics, thinking, social aspects) education. Usually, the basis for such gaming method relies on certain task limitations, which change the usual characteristics of the game, but maintain the main principle of the game.
Conclusions. A handball training program based on game method is beneficial to the development of individual and team tactical, technical activities and improvement of other gaming components. Education through games allows the trainees to discover different solutions, teaches how to think fast and make the right decisions. Training tasks are completely connected to certain handball actions by applying SSG method. For that reason, small games could be the best ones for students involvement in playing games.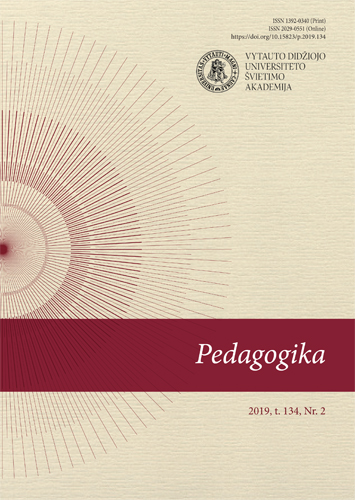 How to Cite
Mikalonytė, R. (2019). The Use of the Small-sided Games Method in a Reduced Pitch Area for Learning Handball. Pedagogika, 134(2), 208-223. https://doi.org/10.15823/p.2019.134.13
Copyright (c) 2019 Pedagogika
This work is licensed under a Creative Commons Attribution-ShareAlike 4.0 International License.