Adolescent' Psychological Health Evaluation Using Investigative and Preventive Activities at School
Keywords:
adolescent emotional and social health, positive psychology, school psychologist, health education at school
Abstract
In Lithuania high rates of child and adolescent emotional and behavioral difficulty level are still observed, which manifests itself in increasing almost unabated wide bullying in schools, suicide cases, low student learning motivation and school absenteeism. Psychological help purpose in educational institution – to strengthen and develop students' psychological health, to promote safe and environment-friendly development of persons school development. Preventive programs and applied research execution are one of the most important activities of school psychologists in the educational community, strengthening students' psychological health and well-being.
Introducing the adolescent psychological health investigation Lithuania. The aim. To investigate the 12–18-year-olds emotional and social health, and to identify differences by age and gender. The research methodology. Social and Emotional Health Questionnaire (SEHS-S Furlong, 2014). Research participants. 1 628 teenagers, aged from 12 to 18 years. The study was carried out in 13 Lithuanian cities and 16 schools. The data was processed by Microsoft Excel and SPSS software. The study findings. Observed teens emotional and social health dispositions expression differences among different genders and age groups. The results are significantly positive in the context of adolescent development, and contribute to the students' psychological risk reduction, human development strengths and health education at school.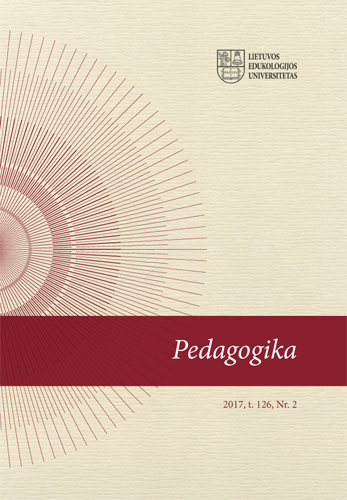 Downloads
How to Cite
Petrulytė, A., & Guogienė, V. (2017). Adolescent' Psychological Health Evaluation Using Investigative and Preventive Activities at School. Pedagogika, 126(2), 99–114. https://doi.org/10.15823/p.2017.22