Once Again about Collaboration: Do Preschool Education Pedagogues Work in Collaborating Teams?
Keywords:
Collaboration, preschool teacher, team, teamwork
Abstract
In order to remain competitive in this dynamic environment, it is important to look for new forms of work that would enable public and private sector companies and ins- titutions to perform their work more efficiently and with higher quality. In order to achieve efficiency and quality, there is a tendency in most organizations to delegate specific work and activities not to individual employees, but to their teams. The many-sided education of a child can be realized only then when there are positive strong relations among the members of a pedagogical team. Teamwork is more effective if team members collaborate with each other. Sometimes it happens that the team of educators does not form. There are several reasons for the non-formation of the pedagogical team, such as unfavorable working conditions, unwillingness to communicate with other members working in the preschool group, burning out, etc. The absence of collaborative team provokes the problematic questions, the answer to which may reveal the importance of collaboration in teamwork. The questions are: how does the teamwork of teachers working in the class of a pre-school educational institution take place? How do educators value their collaboration in the team? After the analysis of the study findings, it was possible to conclude that teamwork is one of the essential components that help achieve the positive educational results. The research findings showed that collaboration is directly related to the quality of teamwork, team building and maintaining a good psychological climate.
Downloads
Download data is not yet available.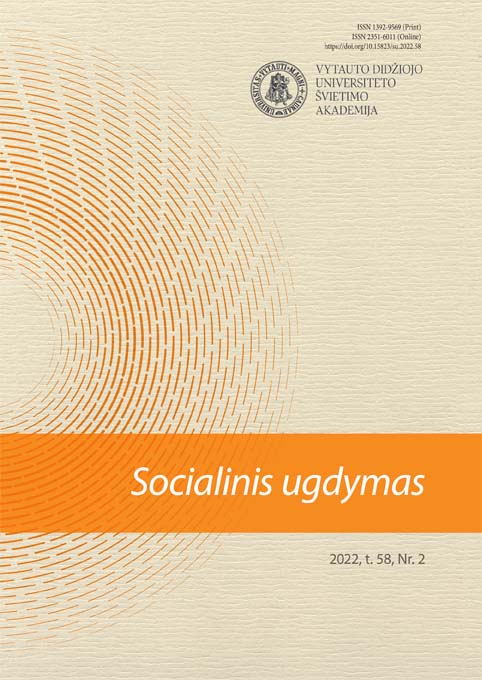 Downloads
How to Cite
Čiučiulkienė, N., & Bloveščiūnienė, J. (2023). Once Again about Collaboration: Do Preschool Education Pedagogues Work in Collaborating Teams?. Social Education, 58(2), 131–145. https://doi.org/10.15823/su.2022.58.7
Section
DEVELOPMENT OF COOPERATION AND MEDIATION IN SOCIO-EDUCATIONAL INSTITUTIONS
License
Copyright (c) 2023 Social Education
This work is licensed under a Creative Commons Attribution-ShareAlike 4.0 International License.