Contemporary History Textbooks in Lithuania: The Case of Innovations
Benediktas Šetkus

Lietuvos edukologijos universitetas, Istorijos fakultetas, Istorijos didaktikos centras
Keywords:
history, textbook, innovation, teaching, Lithuania, school
Abstract
The article analyses recent innovations in Lithuanian history textbooks. Since 1990, when Lithuania regained its independence, history textbooks with new innovative approaches and content have been published. The author of this study uses the content analysis method to summarise the innovations, which are presented in the history textbooks of five publishing houses: Šviesa, Briedis, Kronta, Tyto alba and Elektroninės leidybos namai. To that end, the author examined 20 history textbooks and distinguished seven most prominent innovations.
Downloads
Download data is not yet available.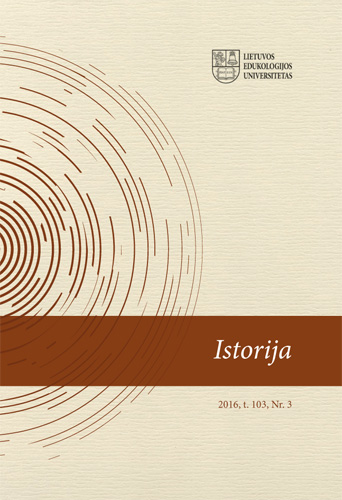 How to Cite
[1]
Šetkus, B. 2019. Contemporary History Textbooks in Lithuania: The Case of Innovations. History. 103, 3 (Oct. 2019), 107-128. DOI:https://doi.org/10.15823/istorija.2016.07.
Copyright (c) 2019 History
This work is licensed under a Creative Commons Attribution-ShareAlike 4.0 International License.