Search for Te New Lithuanian Ambassador for Washington in 1993
Keywords:
ambassador, Washington, Stasys Lozoraitis (Jr), Vytautas Čekanauskas, Algirdas M. Brazauskas, Kazys Bobelis, presidential elections, US Lithuanian expatriates
Abstract
Annotation. Based on archival documents and press information, an attempt is being made to fnd out whether in 1993 the DLPL government and President Algirdas M. Brazauskas legally recalled Ambassador Stasys Lozoraitis (Junior) from Washington and transferred him to a similar position in Rome. An attempt is made to evaluate the selected candidate for the Honorary Consul General of Lithuania in Los Angeles, Vytautas Čekanauskas, to temporarily lead the Lithuanian diplomatic mission in Washington. Although some Lithuanians in the United States supported Čekanauskas' candidacy, there was an outcry that Lozoraitis had been illegally withdrawn from the United States and treated with disrespect; Čekanauskas refused the proposed post. This may have been influenced by the vague prospects offered to him by the Lithuanian authorities, as there was no clear talk about the post of ambassador. At the same time, the governments of Latvia and Estonia appointed Latvian and Estonian representatives in the United States as their ambassadors in Washington.
Downloads
Download data is not yet available.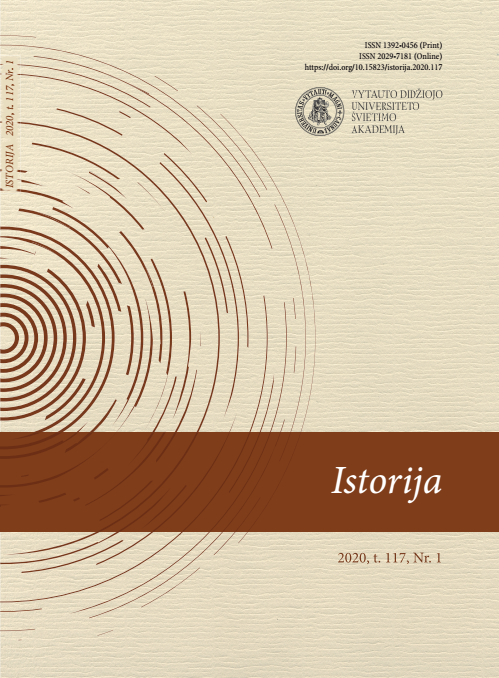 Downloads
How to Cite
[1]
Skirius, J. 2020. Search for Te New Lithuanian Ambassador for Washington in 1993. History. 117, 1 (Aug. 2020), 67–77. DOI:https://doi.org/10.15823/istorija.2020.117.4.