Attempts to Rifelmenise Vilnius in 1939–1940
Keywords:
Lithuanian Riflemen's Union, riflemen, Vilnius Territorial Unit, Vilnius, Vilnius region, paramilitarism
Abstract
Annotation. Based on a rich database of sources (memories and documents stored in the Central State Archive of Lithuania), the article analyses the activities of the Lithuanian Riflemen's Union in the Vilnius region regained in October 1939. Te main attention is paid to the XXIII Vilnius Riflemen's Territorial Unit operating in Vilnius County, which was tasked with riflemenising the Lithuanian capital and surrounding territories. Te study clarifes the periodisation of riflemen activity in Vilnius, analyses in detail the process of team formation in 1939–1940, examines the tasks set for riflemen and their implementation in the regained land.
Downloads
Download data is not yet available.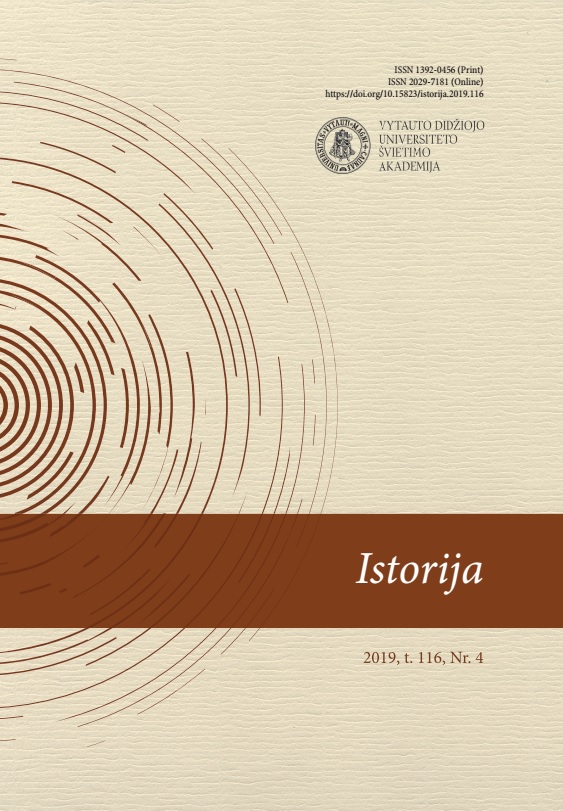 Downloads
How to Cite
[1]
Nefas, M. 2020. Attempts to Rifelmenise Vilnius in 1939–1940. History. 116, 4 (Jun. 2020), 30–54. DOI:https://doi.org/10.15823/istorija.2019.116.2.