Parents with hearing disability experiences of parental construction
Keywords:
deaf, deaf parents parenting, Lithuanian sign language,, parenting
Abstract
Many of today's hearing-impaired parents grew up in boarding schools for Deaf or hard of hearing pupils, where they spent their childhood and adolescence separated from their parents. For them, the pedagogues and tutors were like parents, some of whom carried out the functions of parents with care, while others impose physical and psychological punishments. Some of research participants grew up in Deaf families and used Lithuanian Sign Language daily; others, however, grew up in hearing families where Lithuanian Sign Language was not used. All these circumstances may have influenced the construction of their parenting experience, and in this article the results of a study that reveals the childhood and adolescent experiences of Deaf parents in order to reveal their influence on current parenting skills are presented. Parents with hearing disabilities, raising Deaf and/or hearing children, participated in the study, and 5 of the research participants grew up in boarding schools for Deaf or hard of hearing during their child hood and adolescence. Eight members of the Deaf community (all hear ing-impaired parents) participated in the study: 6 mothers and 2 fathers, raising one or more deaf and/or hearing children. The results of the study reveal rather contradictory outcomes about current parenting experiences. On the one hand, we can see that some of the research participants do not take into account the effects of physical or psychological punishments by their parents during their childhood, but directly transfer them to their current parenting practices. On the other, when we delve into the current parenting by deaf parents, we notice that some of the hearing-impaired parents who participated in the study are able to transform their negative childhood experiences and behave in the opposite way. The transformation of the experienced model of improper parental behavior is usually decided upon in childhood after experiencing a negative reaction of parents to their openness, lacking a trust-based relationship and parents' efforts to provide knowledge on various social issues, especially taboo topics. This negative experience encouraged the research participants to consciously prioritize interaction with their children and seek to change it, creating supportive and open relationships. When discussing the research data, the social worker's involvement in providing services to a Deaf or hard of hearing family is considered.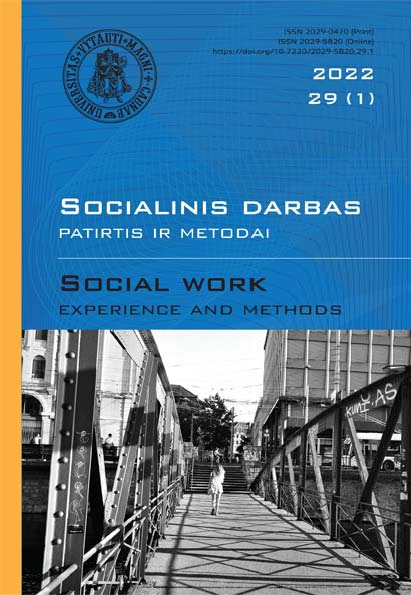 Downloads
How to Cite
Vaišnora, K., & Vyšniauskytė-Rimkienė, J. . (2023). Parents with hearing disability experiences of parental construction. Social Work: Experience And Methods, 29(1), 83–103. Retrieved from https://ejournals.vdu.lt/index.php/SWEM/article/view/4238