The role of a social worker in the context of elderly nursing home relocation
Keywords:
older people, nursing home relocations, social relationships, well-being, autonomy, occupation
Abstract
Relocation to a nursing home is one of the most challenging transitions in older age, as many unknowns, such as new people, altered physical surroundings, and unfamiliar social demands affect the well-being of new residents. Even though moving to a residential care facility can also open up positive opportunities, the crisis experienced by older people and the feeling of meaninglessness in life often demand active support from social workers in residential care facilities. Knowledge about older people's nursing home relocation can inform the social work practice and social policy to better address their needs, and reduce the relocation stress. Thus, this paper aims to reveal how social workers can help older people cope with the changes they experience after moving to nursing homes. Through 25 qualitative semi-structured interviews, three main clusters of lifesty le changes after the move were identified: 1) changes in social network, 2) changes in leisure and occupation habits, and 3) changes in daily routine. These changes and the social worker's role in helping cope with them are discussed in more detail in the paper.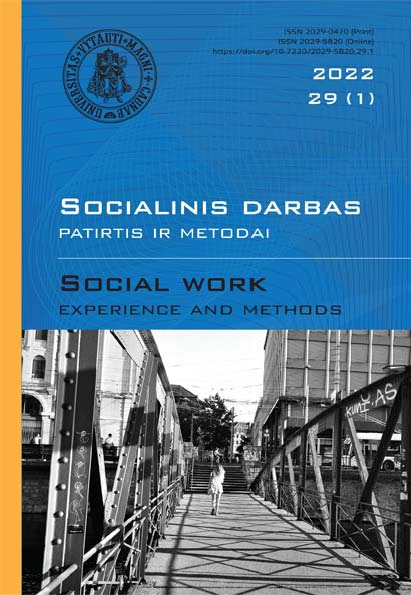 Downloads
How to Cite
Charenkova, J. . (2023). The role of a social worker in the context of elderly nursing home relocation. Social Work: Experience and Methods, 29(1), 61–81. Retrieved from https://ejournals.vdu.lt/index.php/SWEM/article/view/4237