2029-5820.28.2.5 The process of male social workers' professional identity formation
Keywords:
social work, professional identity, gender stereotypes, male social worker
Abstract
The profession of social work has a female "face", because activities like helping, caring, responding to needs, providing emotional support are culturally constructed as female activities. There is still a stereotype that only women can work in this job, which makes it quite difficult for men to adapt to this profession due to the prevailing gender stereotypes. Male social workers may experience marginalization and their identity may be questioned. Given these stereotypes, it is necessary to talk about men who find themselves in a female-held profession – social work and are not afraid to express their "non-masculine" qualities such as sensitivity, empathy, tenderness. The aim of this article is to present the process of professional identity formation of male social workers. The article is based on data from a qualitative study conducted in Lithuania, in which 8 male social workers took part. The results of the research reveal that the beginnings of the formation of professional identity begin while still in school (through choosing a profession, thinking about professional career), the process intensifies during internships and entering the field of social work after becoming a graduate specialist. This dynamic process lasts the entire period of professional activity, an important part of it is the internal monologue, when male social worker asking himself about professional roles and its limits, professional goals, etc. Men in social work experience their gender identity most vividly through two radically different experiences: separation from certain professional activities based on gender stereotypes and being more visible and important in practice field because of their gender. The practical activity of social work enables men to supplement the normative concept of masculinity with certain features that are not traditionally associated with masculinity – empathy, compassion, concern. By reconstructing their identity as a man and as a social work professional, individuals can accept and realize themselves.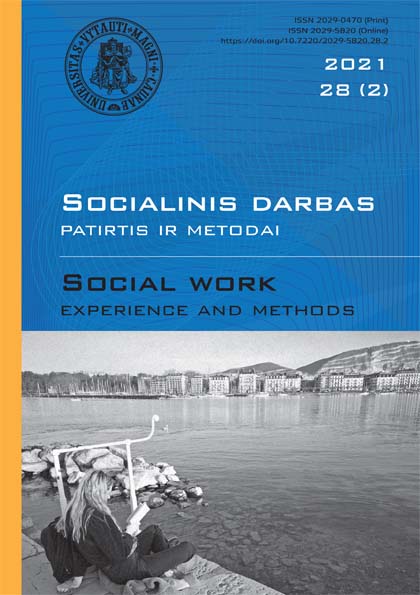 Downloads
How to Cite
Daugėlienė, . D., & Zigmantavičius, A. . (2022). 2029-5820.28.2.5 The process of male social workers' professional identity formation. Social Work: Experience and Methods, 2(28), 129–151. https://doi.org/10.7220/2029-5820.28.2.5