2029-5820.28.2.2 Support to a family in creating safe environment for a child in a situation of temporary foster care
Keywords:
family support, temporary care, safe environment for the child, system
Abstract
The article aims to reveal the qualitative research that helps the family in creating a safe environment for the child during temporary care. A quali­tative study was conducted to reveal the purpose of the study and to ans­wer the problematic questions of the study. A semi-structured interview method was used to collect the data. The survey was conducted in October 2020 – February 2021. Applying the criterion selection, the target research sample was formed – 9 research participants. Families in temporary care, on-call caregivers, and social workers who provide assistance to families in temporary care were selected for the study. The investigation established that in the situation of temporary care of a child the provision of support to the family in creating a safe environment is obvious, but in practice there is a problem of the system of support pro­vided: customers tend not to accept the provided support when specialists do not take into account family's individual crisis situations or they can feel the indifference of social workers, which creates preconditions for dis­trust of specialists; guardians on call shall indicate periods of temporary custody for an indefinite period of time with child care, which increases affection for them and the child, and the weakening or loss of biological parents' relations with the child, moreover, there is a lack of psychological assistance after separation with the foster child; specialists, when creating a safe environment for a child in a situation of temporary care, shall identify the family's unwillingness to accept the support. It should be noted that the absence of a circle of relatives and community support for the family redu­ces the effective reception of the support offered to the family. In addition, at the same time too much attention from the aid specialists to the family does not encourage family motivation. Taking into account the views of all the participants in the study, family support should be geared to the coordinated diversity of the network of professionals and to ensure that the work is carried out as quickly as possible: increasing the potential of the service "here and now", "green corridors". while creating a safe environ­ment for a child in a situation of temporary care, it is also important to take into account the individualised situation of the family and the consistency and sustainability of provided support.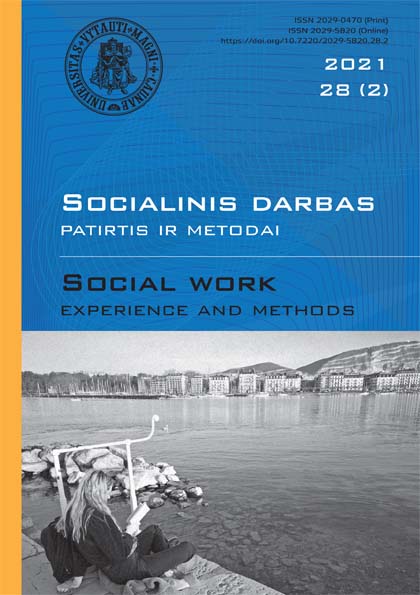 Downloads
How to Cite
Budrienė, . J., & Kiaunytė, . A. (2022). 2029-5820.28.2.2 Support to a family in creating safe environment for a child in a situation of temporary foster care. Social Work: Experience and Methods, 2(28), 39–61. https://doi.org/10.7220/2029-5820.28.2.2