Gerovės valstybės sampratos ir matavimų problemos
The problems of the notion of welfare state and its measurements
Keywords:
Gerovės valstybė;Samprata;Sąvoka;Matavimai;Welfare state;Notion;Concept;Measurements
Abstract
Autoriai straipsnyje pateikia šiuolaikinius gerovės valstybės sampratos problematikos klausimus, kartu bandydami paanalizuoti dažniau pasitaikančius gerovės valstybių matavimų būdus. Straipsnis skiriamas jau kiek pasiruošusiems ir susipažinusiems su gerovės valstybę tyrinėjančia literatūra skaitytojams bei tiems specialistams, kurie nori drąsiu ir inovatyviu žvilgsniu pažvelgti į gerovės valstybės tyrinėjimo problematiką.
The article seeks to cover modern issues of the notion of the welfare state and to review its measurement methods. Although the authors emphasize the importance of the historical development of the welfare state and the importance of the succession of some things, they note the longevity and validity of the concept of the welfare state for the future and for modeling the future of its phenomena or scenarios. In the article, the authors present contemporary issues of the notion of the welfare state, while trying to analyze the more common ways of measuring welfare states. The article pays close attention to the failed concepts to describe the welfare state, while substantiating those terms that the authors believe are appropriate to use. The article is of the analytical review type, characterized by descriptive and comparative methods, and its aim is to reveal the notion of the welfare state in modern conditions and to present those quantitative methods and characteristics without which the analysis of welfare states is impossible. The article is intended for readers who are already somewhat prepared and acquainted with the literature researching the welfare state, and for those specialists who want to look at the issues of welfare state research with a bold and innovative look.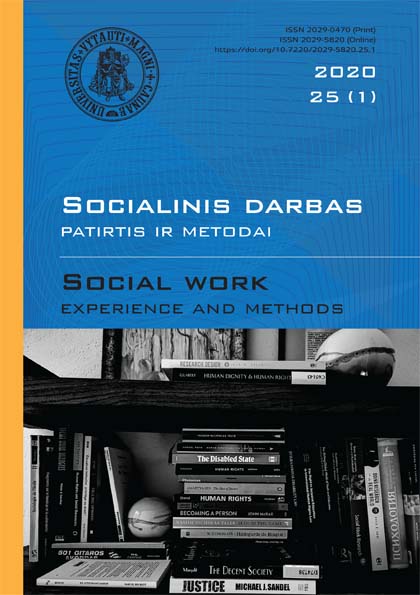 Downloads
How to Cite
Guogis, A., & Svirbutaitė-Krutkienė, G. (2021). Gerovės valstybės sampratos ir matavimų problemos: The problems of the notion of welfare state and its measurements. Social Work: Experience And Methods, 1(25). https://doi.org/10.7220/2029-5820.25.1.1