About the Journal
ISSN 2335-8742 (Online)
ISSN 1822-7996 (Print)
Applied Economics: Systematic Research is a scientific peer-reviewed journal covering systematic research as well as reviews of important scientific works and events in economics, finance, econometrics, and statistics. Journal is reviewed in the EBSCO Business Source Complete Database and databases of Information and Learning Limited ProQuest, Databases of Central and Eastern European Online Library (C. E. E. O. L.), Index Copernicus (IC) and LITUANISTIKA International Databases. The content of the publications is available for databases users in the entire world. That guaranty wider spread of research results and new knowledge that are published in the issues.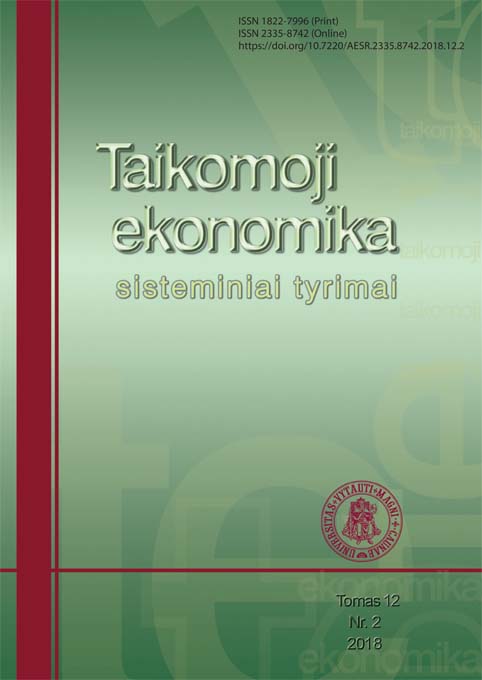 FOCUS AND SCOPE
To encourage scientific research in economics seeking for new theoretical and practical solutions; to analyze modern trends in economies; to contribute with new scientific ideas to the development of research methodology in economics; to provide the dissemination of scientific knowledge in economics. The Journal's fields of research:
Government Economic Policy and Macroeconomic Forecasting
Economic Development and Growth
Industrial and Production Economics
International Economics and Trade, Transition Economies
Labour and Demographic Economics
Finance and Financial Economics
Monetary Economics and Banking
Environmental and Resource Economics
Public and Social Economics
Mathematical and Quantitative Methods in Economics
Publication is free of charge: No article processing charges; No article submission charges.
PEER REVIEW PROCESS
All manuscripts are peer-reviewed by two experts, double-blind review system is applied. Manuscripts will be considered for appropriateness to the Journal by the Editorial Board. Those manuscripts considered appropriate will be sent to outside experts for review; those not appropriate will be declined outright. The manuscripts are evaluated by Scientific Editor, who recommends either accept, reject, or return the manuscript to the authors for revision. A request for revision does not guarantee the article will be accepted for publication.
OPEN ACCESS POLICY
This journal provides immediate open access to its content on the principle that making research freely available to the public supports a greater global exchange of knowledge.
All articles published in Applied Economics: Systematic Research (AESR) are under the Creative Commons Attribution-NonCommercial 3.0 Unported license (CC BY-NC 3.0), allowing third parties to share their work (copy, distribute, transmit) and to adapt it, under the condition that the authors are given credit, that the work is not used for commercial purposes, and that in the event of reuse or distribution, the terms of this license are made clear.
Authors retain copyright of their work, with first publication rights granted to Vytautas Magnus University. However, authors are required to transfer copyrights associated with commercial use to the Publisher.
Publication ethics
Applied Economics: Systematic Research (AESR) is committed to maintaining the highest ethical standards. Our ethic statements are based on COPE's Code of Conduct and Best Practice Guidlines for Journal Editors.
POLICY of Screening for plagiarism
Before submitting articles to reviewers, those are first checked for plagiarism, by a member of the editorial team. Papers submitted to Applied Economics: Systematic Research will be screened for plagiarism using CrossCheck / iThenticate plagiarism detection tools. Applied Economics: Systematic Research journal will immediately reject papers leading to plagiarism or self-plagiarism.