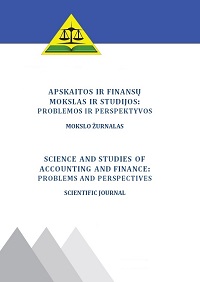 The journal is peer reviewed, has been published since 1998 with one edition every two years as Conference
Science and Studies of Accounting and Finance: Problems and Perspectives
Proceedings. The interest of participation in the conference grew every year, and the focus on the research quality of the articles increased too. Global and dynamic science and business environment encouraged scientists to conduct fundamental and applied scientific research in the fields of accounting, audit and finance and to publish their results in well-known scientific journal. The synergy of the presentation of the research results in the conference and publishing them in the thematic journal is based on the worldwide scientific practice. Since 2012
Science and Studies of Accounting and Finance: Problems and Perspectives
is the scientific journal with one edition every two years, and since 2016 will be published every year.
Science and Studies of Accounting and Finance: Problems and Perspectives
is the international, peer-reviewed scientific journal published by Vytautas Magnus University Agriculture Academy.
The aim of this journal is strengthening the cooperation of scientists and sharing the knowledge in the field of accounting, audit and finance, enabling scientists to publish the results of research at an international level.
Frequency.
Journal is issued every year.
Language of an article. Articles are published in Lithuanian and English languages. If an article is prepared in Lithuanian, the abstract have to be in Lithuanian and summary – in English. If an article is prepared in English, the abstract have to be in English and summary – in Lithuanian.
Indexing.
The Journal is indexing by EBSCO, ERIH PLUS and DOAJ.